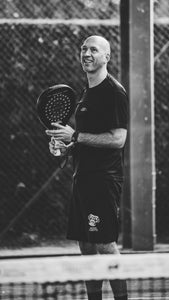 Mono Fuerte Story
The story Mono Fuerte was founded in 2019 with the commitment to fuse Padel with lifestyle. We wanted to be pioneers in bringing Padel from the Spanish speaking parts of the world to our country. Respecting the origin of the game, the name Mono Fuerte  is Spanish. The logo was designed to show strength and power, combined with the tenderness of the eyes of the Mono representing respect, fair play and friendship.
As Benelux distributor for Softee Padel we had the chance to collaborate closely with one of the biggest padel houses of Spain. It is the same group of engineers that helped us design and produce the full range of Mono Fuerte Padel rackets.
Our mission was to create a high end, exclusive and trendy padel brand, We care for perfection in every product we manufacture. Design is one of our foundation principles, the starting point of the entire product development process.
What started as a dream is becoming reality. The biggest asset to do better every day is the feedback from you, enthusiastic padel addicts.